Fancher, Portarge County, Wisconsin: Some Genealogy and Homestead History
This web page was first mounted on March 3, 2012 by Sheila Schmutz. sheila.schmutz@usask.ca and last updated on ..... This is a work in progress and any additions or corrections are welcome!
---
This webpage focuses on a small aspect of the Polish immigration to Portage County, Wisconsin. Many early settlers came to the aptly named Polonia, and built Sacred Heart Church there. A few of these families subsequently built another Catholic church at Fancher, St. Mary's of Mount Carmel in 1885. A second larger church was built in 1893, but was destroyed by fire a few years later. The church in this photo was built in 1904 and still stands today.
Some of the founding members of this church (Goc 2001, p. 40) were :
Albert Kubisiak and his wife Frances Dzwonkowski, Sharon
John and Dominica Sobiesczyk
John and Melvina Konkol
John and Victoria Trzebiatowski
Joe and Mary Glisczynski
Andrew and Rose Glodowski
Anton and Julia Shulfer (Szulfer)
Martin and Katherine Shulfer
John Skiba
Ambrose Sankey
Anton Cyra
August Dulak
Joseph Pehoski
Matthew Makowski
Joseph Jablonski
Jacob Werachowski
Apparently the early parishoners of this church celebrated a special holy day: July 16, St. Mary of Mount Carmel day.
A record of the priests that served this parish has not been found, but may be in the centennial book.
Rev. Stanislaus J. Kubiszewski appears in the 1900 federal census as the Catholic Priest, and again in the 1905 Wisconsin census. He was born in Poland in September 1870 and had immigrated in 1884, so must have entered the priesthood in the U.S.
The Very Rev. L. J. Pescinski transferred to Sacred Heart Parish in Polonia in 1916 from St. Mary's of Mount Carmel. It is not know how long he had served in Fancher before this transfer, but he was already shown as a Catholic Priest in the 1910 census of Stockton, with his niece Helen Bemka as housekeeper. In the 1905 Wiconsin census, he was living in Stevens Point with his niece and father Stanislaus Pescinski. Therefore it is likely he did not move to Fancher until after 1905.
St. Mary of Mount Carmel Church and Cemetery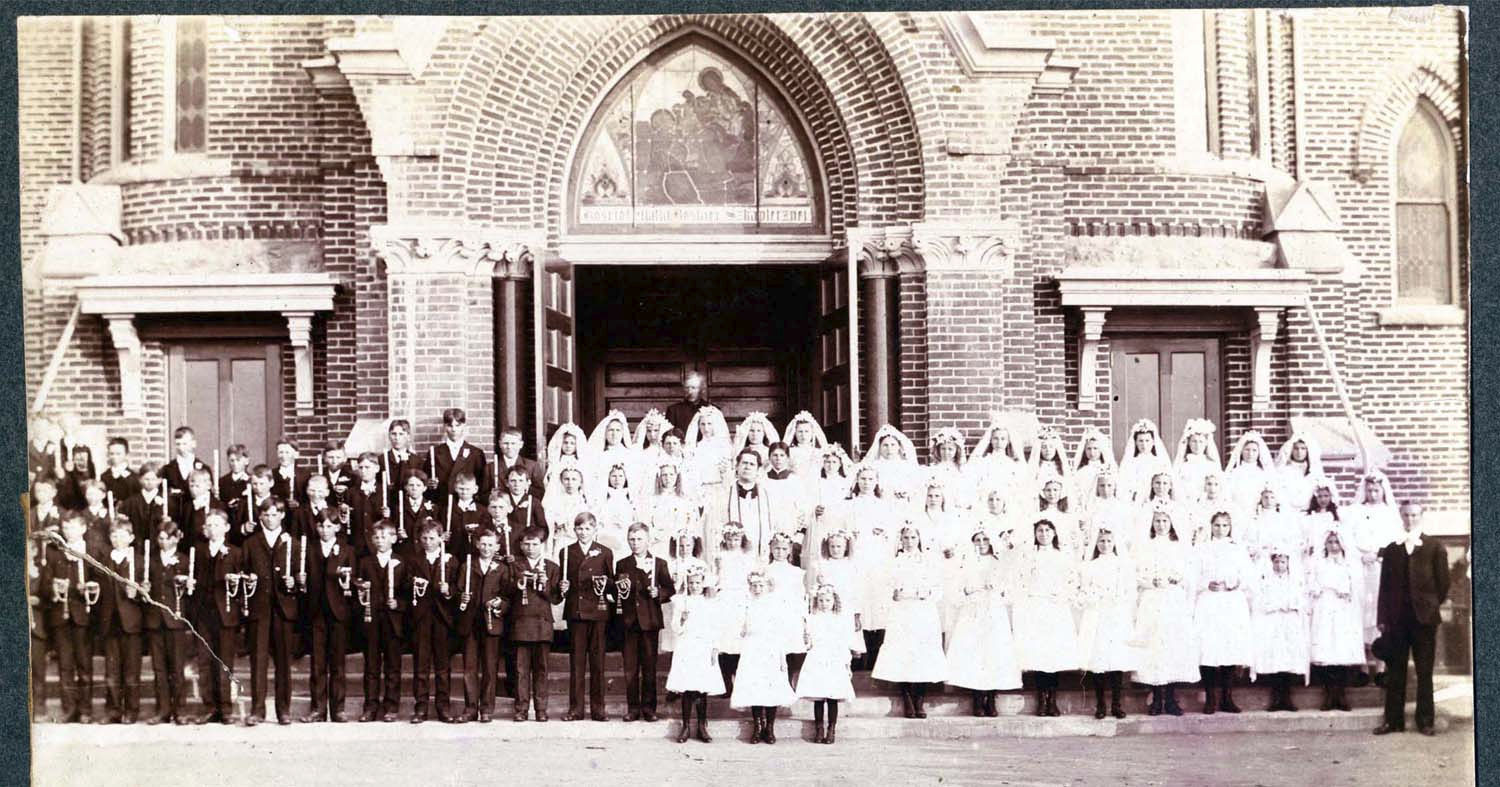 This is a very large First Communion Group posed in front of the church. Unfortunately there is no date or photographer's imprint on this photo. If anyone recognizes any of the communicants, please let me know (sheila.schmutz@usask.ca). I descend from some Glodowski families who belonged to this church, so it is likely that there is at least one Glodowski child in this photo!
Diane (Wysocky) Anderson recognized this photo! She explains that it was published in the "Centennial of St. Mary's of Mt. Carmel, Fancher, Wisconsin, 1884-1984". The book states this is the communion class of 1906, but includes the communion classes of 1904 and 1905. This is likely because the church had burnt after the communion class of 1903, and the new brick church that still stands took some time to be erected.
The priest in the middle of the photo is Father Stan Kubiszewski and the teacher on the right is Clements Wiczynski, according to the centennial book.
Early Settlers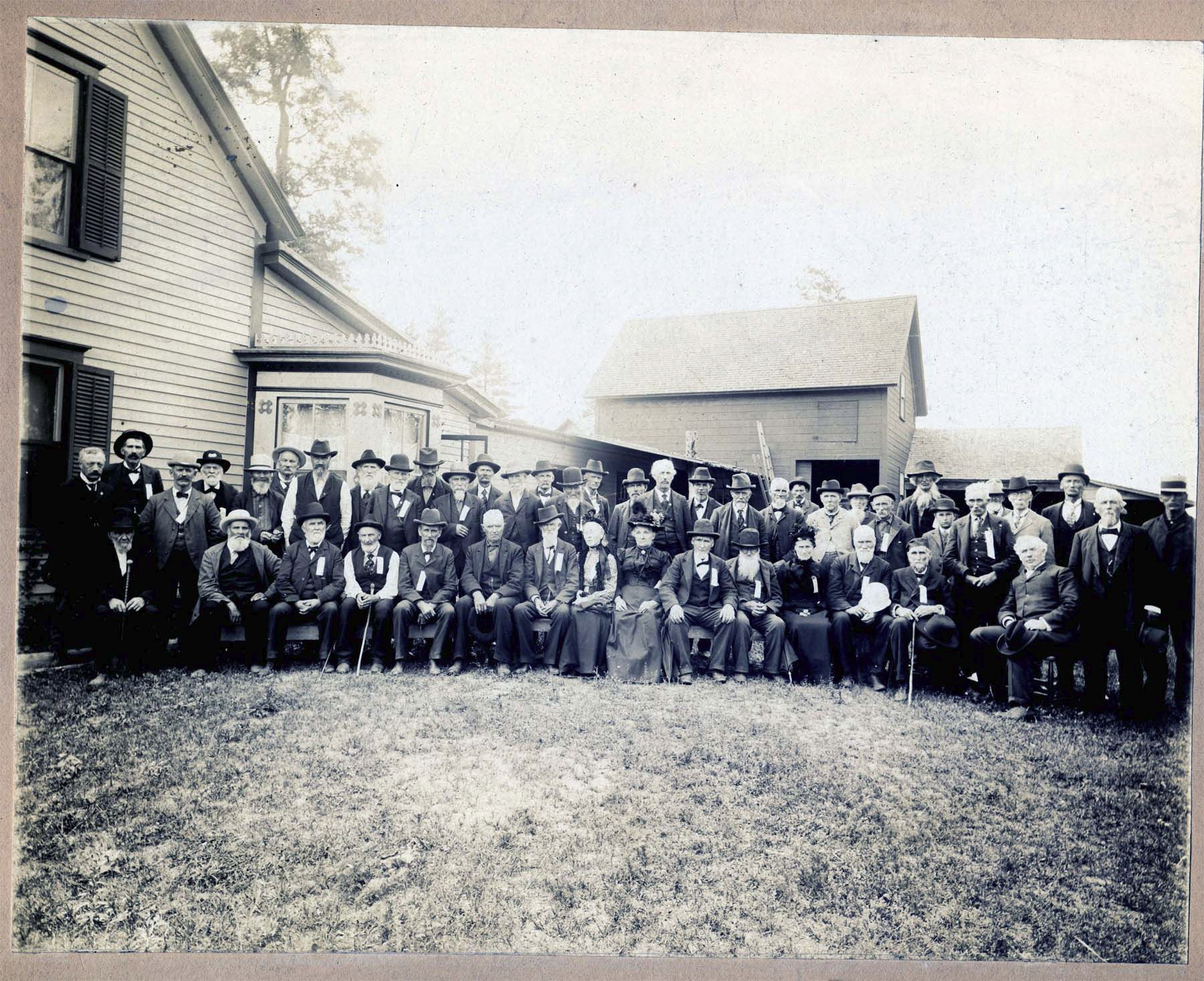 This photo was mounted in a similar way and might be from the same era. I do not know the owner of the home in the background. Again any help identifying any of the poeple in this photo is welcome! I do not know why there are so few women shown.
Settlers of this area are shown as living in Stockton and Sharon in early census records.
---
Publications and Websites Related to Early Settlement of the Fancher Area
"Native Realm, The Polish-American Community of Portage County, 1857-1992" 2001, by Michael J. Goc, Worzalla Publishing, Stevens Point, Wisconsin.
"Centennial of St. Mary's of Mt. Carmel, Fancher, Wisconsin, 1884-1984." Printmark, Inc., 112 Christy St., Amherst WI 54406.
Fancher, Wisconsin on Wikipedia.